Get A Year's Worth of Adorable Baby Photography For A Great Price…
You get FOUR portrait sessions total: one session done at 3, 6, 9, 12 months.
You get a 10 inches by 20 inches panel featuring your favorite image from each of the four sessions (see below)
You get the Glow Imagery guarantee: You must be thrilled with your photography or you get all of your money back plus $10 for the trouble.

Our $99 First-Year Baby Club includes a beautiful panel featuring your favorite 4×5 image from each session. The panel is 10 inches by 20 inches and full color. (click to see it larger.)

All Of This Is Yours For Just $99!

Don't wait, spaces are limited

>Each month we offer new mothers and expecting mothers our First-Year Baby Plan through a variety of promotional ways. This means our calendar fills up very fast and since we take so much time and effort with each of our babies we can only accept nine new babies per month. So call our studio right away to get your child on the baby plan! Our phone number is 816.550.8830.

Why Choose Glow Imagery Over The Rest?

A child safe, courteous, friendly and peaceful place for you and your baby.
Your own appointment time for a private session… you will never have to wait…. ever!!!
Many poses to select from…you're never disappointed!
No teenagers and no part-timers will create your baby's images. Chris Cummins, our chief photographic artist will be the photographer for each of your baby's session.
We absolutely guarantee if you are not

thrilled

with your portraits you receive all your money back. You must be thrilled with us… or you lose nothing! Let's Get Started Right Now!
PLAY VIDEO
Hear From Our Clients About Their Experience in Our First-Year Baby Club
Questions & Answers About The Baby Plan
Q. Can I purchase additional portraits from each session? And, if so, how much do they cost?
A. Yes, most parents select a variety of poses for themselves and other family members. We have a complete line of custom gift items that start at $35-$100 but also, packages and add-on items (like some of our collections below) that start from $63. We pride ourselves on having products that no other studio has. These are unique items that will absolutely thrill you, your family and your friends. They will go bonkers over them!

Q. Where is your studio located?
A. We are located near Ward Parkway Shopping Center in Kansas City, MO. Our exact address is 524 E. 90th Terr, KC, MO 64131.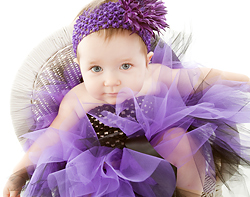 "First our wedding, now his beautiful portraits of our baby, Lyra! Chris has truly become our family photographer. We feel so comfortable working with him and he always goes above and beyond to make us feel like we are his only client. We never feel rushed and we have fun. Every session, he works so hard to create something that touches our heart so wonderfully!"
Brandi Stout, Kansas City, KS